Today my study of Bluets has led me home –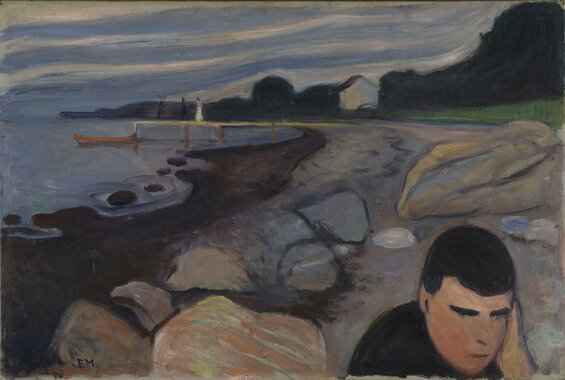 Edvard Munch, Melankoli (Melancholy), oil on canvas, 1892 © National Gallery, Oslo
As with many of Edvard Munch's works, "Melancholy" appears in several different versions and techniques. (His repeated use of the same concepts has made it difficult to identify some works due to the lack of precise descriptions). The "Melancholy" composition began as a pastel drawing of 1891, and was painted between 1891 and 1892 (in painting the compositions are also known as "The Yellow Boat", "Evening" and "Jealousy") . A first woodcut version made in 1896 had the foreground figure on the left, and only the faintest indication of the figures on the pier.
The main figure is said to represent the writer Jappe Nielsen, who suffers for his hopeless love of Oda Krogh, pictured with her newly-married husband, Christian, on the pier.
Oda with friend and lover, the poet Jappe Nilssen in 1891
http://www.moma.org/audios/embed/26/589
EDVARD MUNCH, MELANKOLI (MELANCHOLY), woodcut, 1901 © MUNCH museum, OSLO
The melancholy seen in the pictures of Munch seems to be rather grave, and to me Jappe Nilssen looks more than sad. But traditionally there is a difference between melancholy and depression. Wordsworth put it like this: Melancholy (…) is a luxurious gloom, of choice. According to Jacky Bowring, unlike depression we choose to be melancholic, paradoxically deriving pleasure from feeling faintly sad.
I wonder what's the case in Bluets,
is feeling blue a kind of choice?
.