Yesterday I thought about explosive art, about making things new through destruction. Today I'm looking at things being tied down and together, on things being tied to no-thing, to space, white matter and dark space, like they are in the work of the Japanese artist Chiharu Shiota
In the work "A Long Day" Chiharu Shiota has spun an everyday table, chair and books spread over table and ground into a filigree cocoon of black wool yarn that—from ceiling to floor, from wall to wall—makes a thousand links with their surroundings visible; as it were a network that connects the thing-world with the immaterial.
The writer Brigitte Ulmer presents Shiota's work like this:
The work "A Long Day" is a continuation of Shiota's studies on the relation between human existence and the world, on the cycle of birth, life, suffering and death. As with "During Sleep" (Museum of Art Lucerne, 2002) and "In Silence" (Centre Pasquart, Bienne 2008), Shiota's quest for what determines our existence becomes tangible. In a certain sense, all these works evoke Buddhist concepts, according to which human existence is resolved in a union with the world. In addition to the installations, also her objects, drawings and texts revolve around existential themes such as homelessness, loneliness and being cast into the world.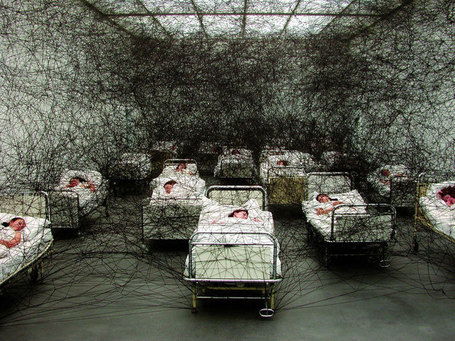 To me Chiharu Shiota's work has a very dream-like quality. One might be tempted to parallel her work to that of Eva Hesse, but I see a kind of deep bottomless depression in Hesse's work – combined with a stunning delicacy, which isn't (yet) to be found in Shiota's more controlled studies.
But even if she doesn't quite match Hesse yet, I find Shiota's work brilliant, and absolute worth a study.
My personal studies will today center around this question: how can one translate a situation of inaccessible space into writing? white matter and dark space – dark matter and white space …